LANGTU Circlo Maple Desktop Smart Lamp
Regular price
$199.98
Sale price
$129.99
Save

$69.99
/
10% OFF
Black Friday Limited Offer
In stock, ready to ship

Inventory on the way
Get a useful device and a gorgeous home accessory with the LANGTU CIRCLO unique table lamp. Its never-seen-before design uses patented technology: a flyswitch. This system consists of a switch, which is a metal ball, that essentially floats in the middle of the air. So all you have to do is press the ball to turn the lamp on. Additionally, you can trigger different preset mood light modes by tapping the ball. With a wireless induction system inside the flyswitch, it can even include a motor to make it move. This means you can eventually replace the switch for this unique table lamp with a new one that can do even more in the future. This simple, modern lamp has a beautiful design that's sure to entrance anyone. With a circular shape, it fits easily in any space and produces a dimmable white light as well as colorful LED lights.
*Please visit this page for the latest unboxing info of LANGTU Circlo Table Desk Smart Lamp.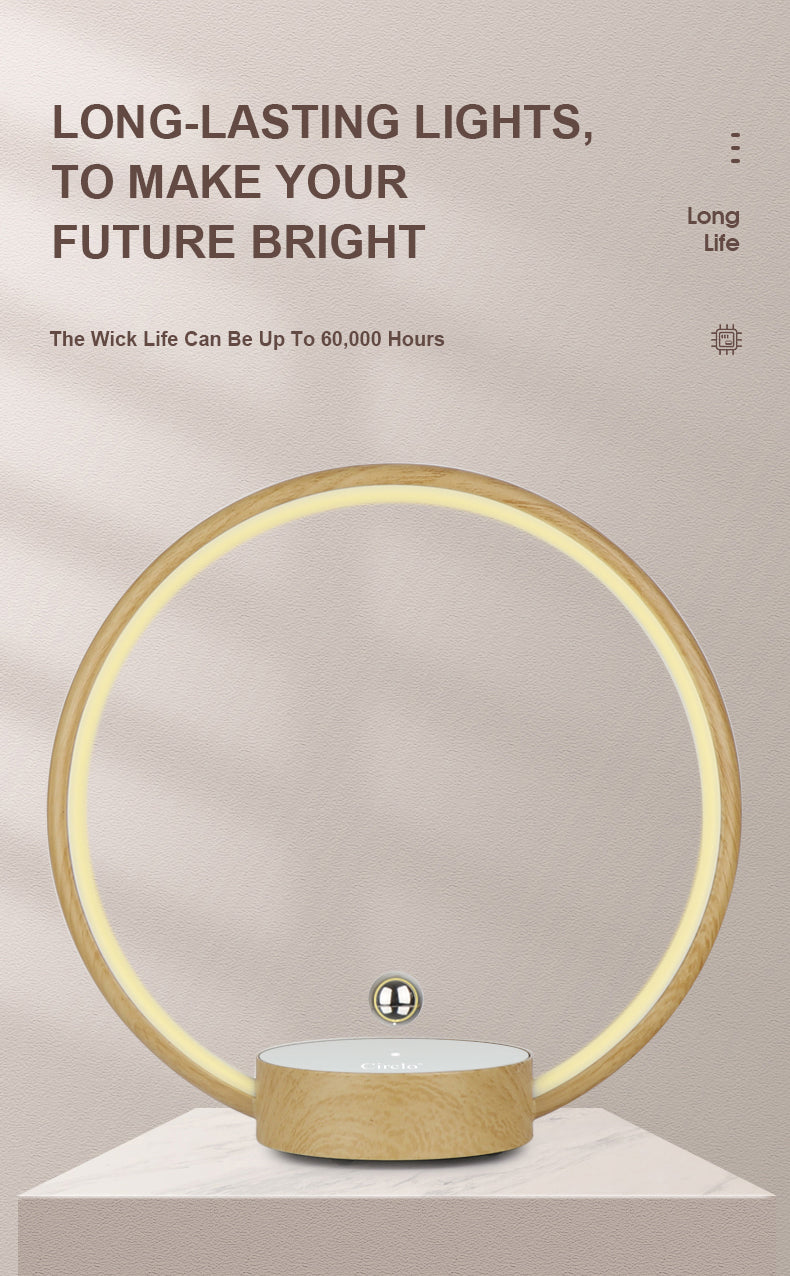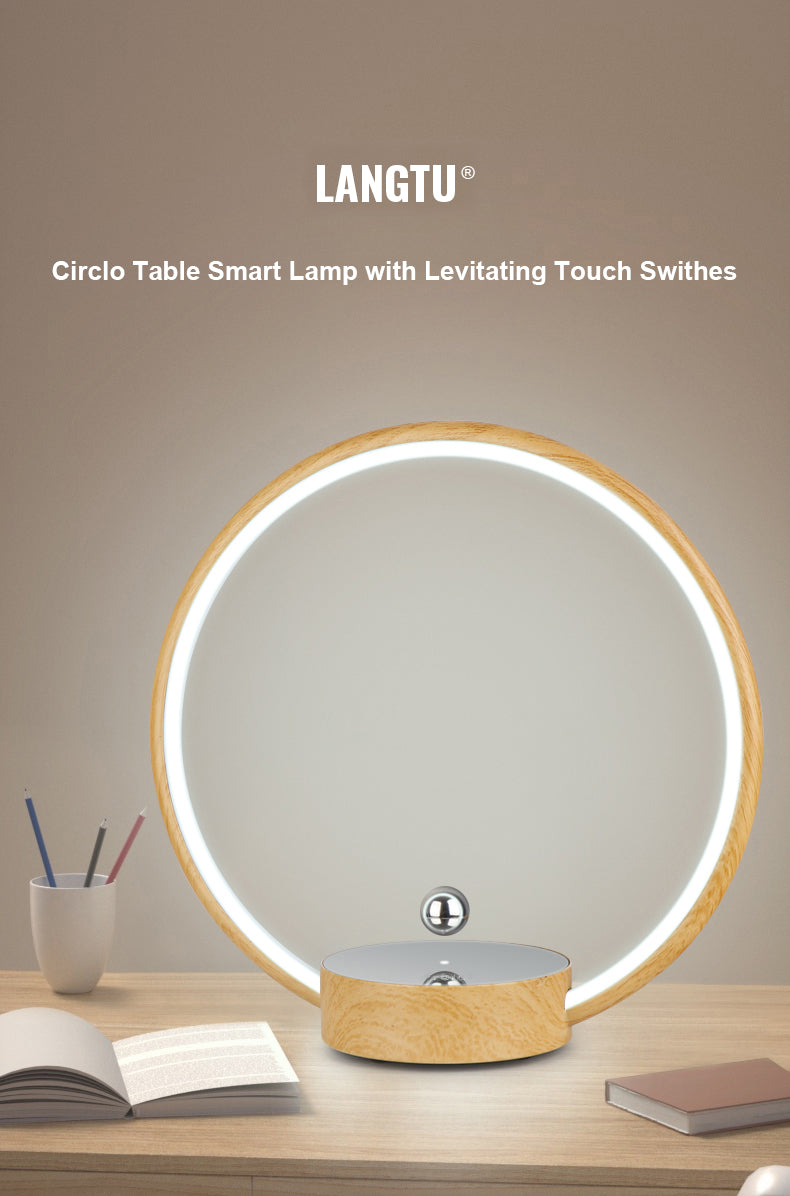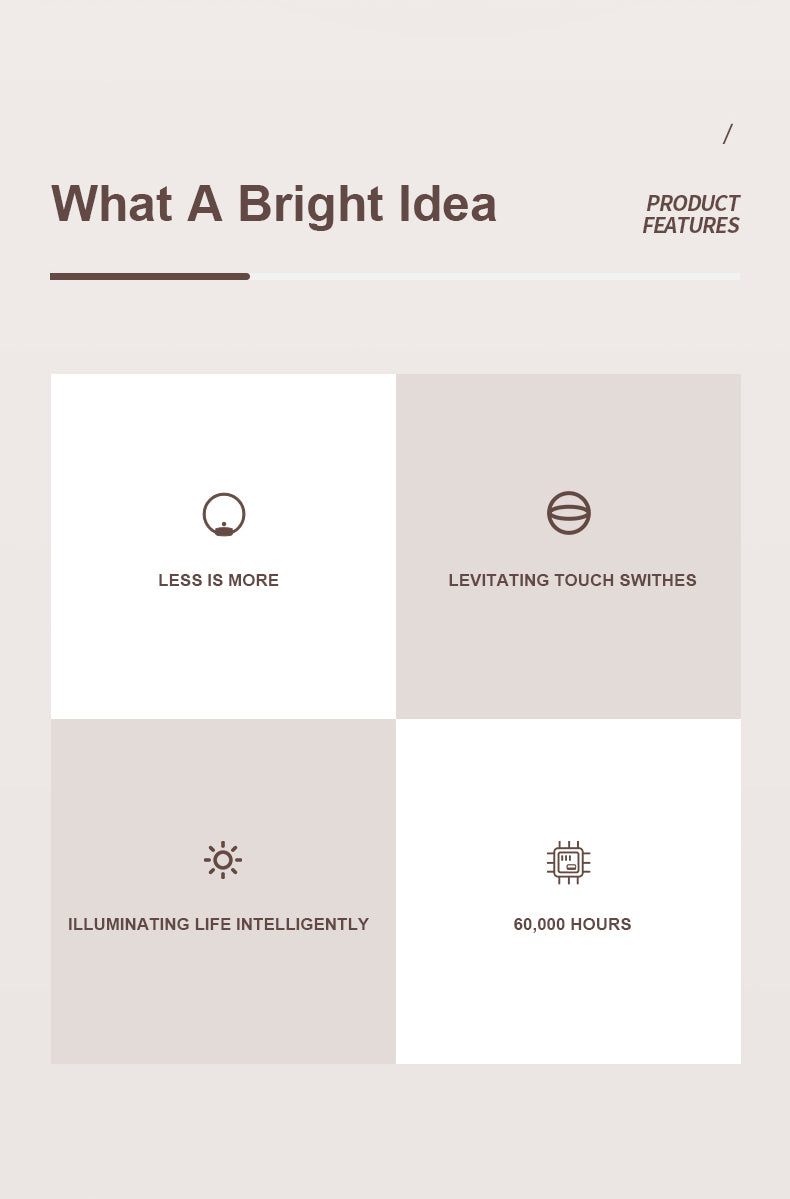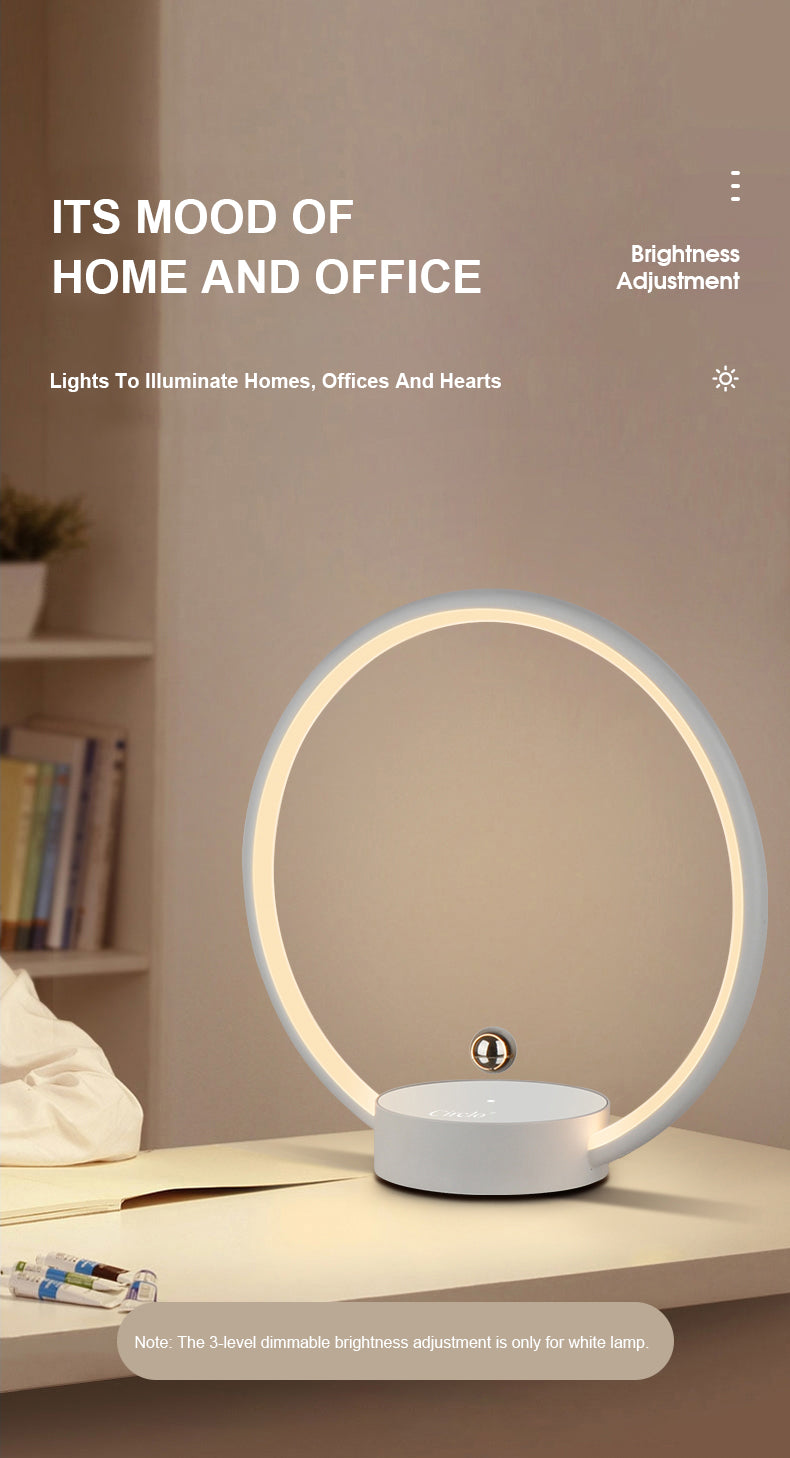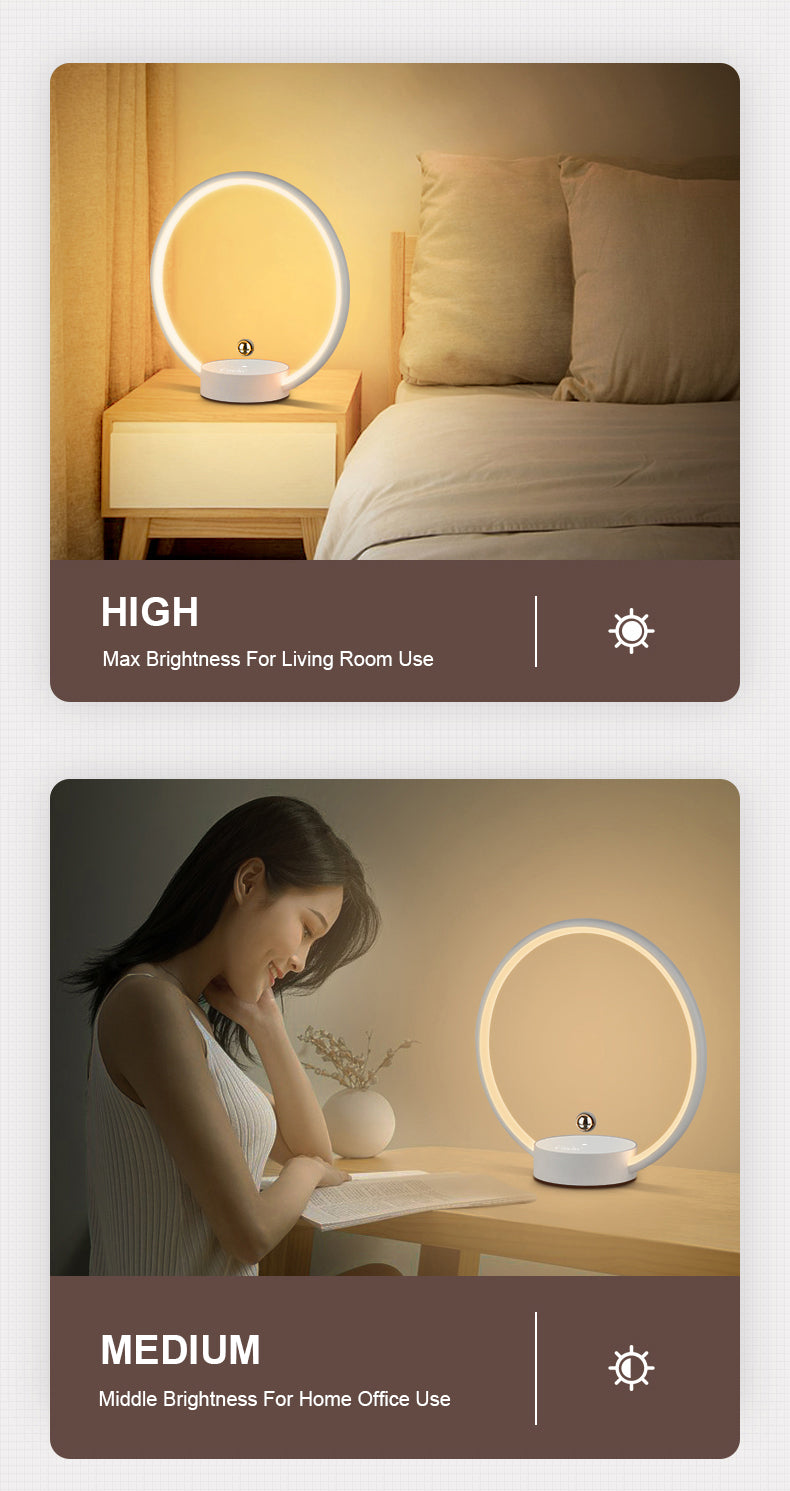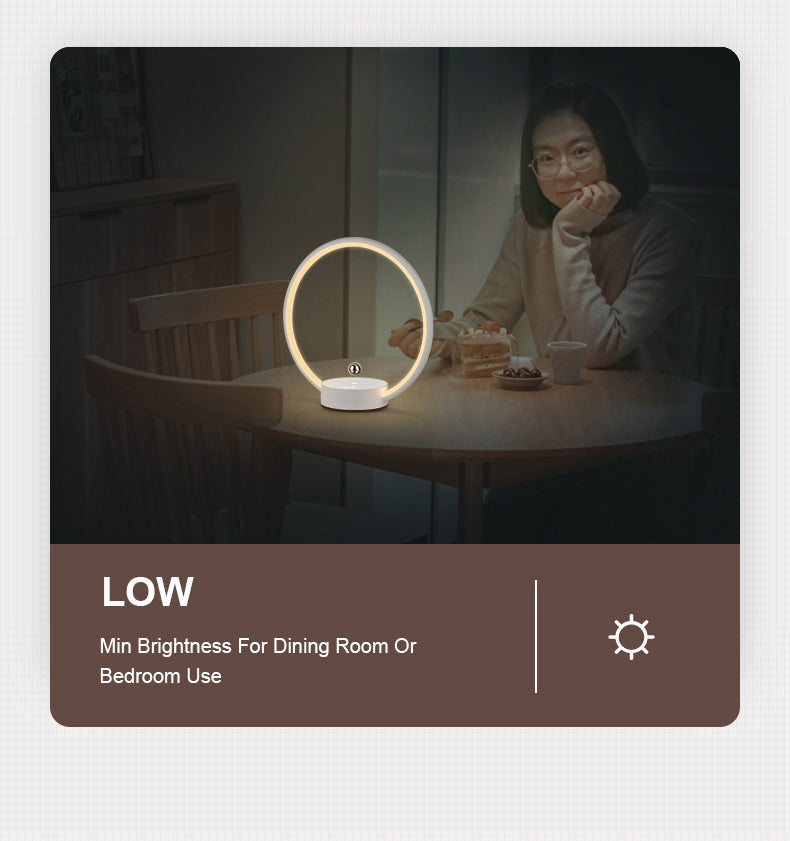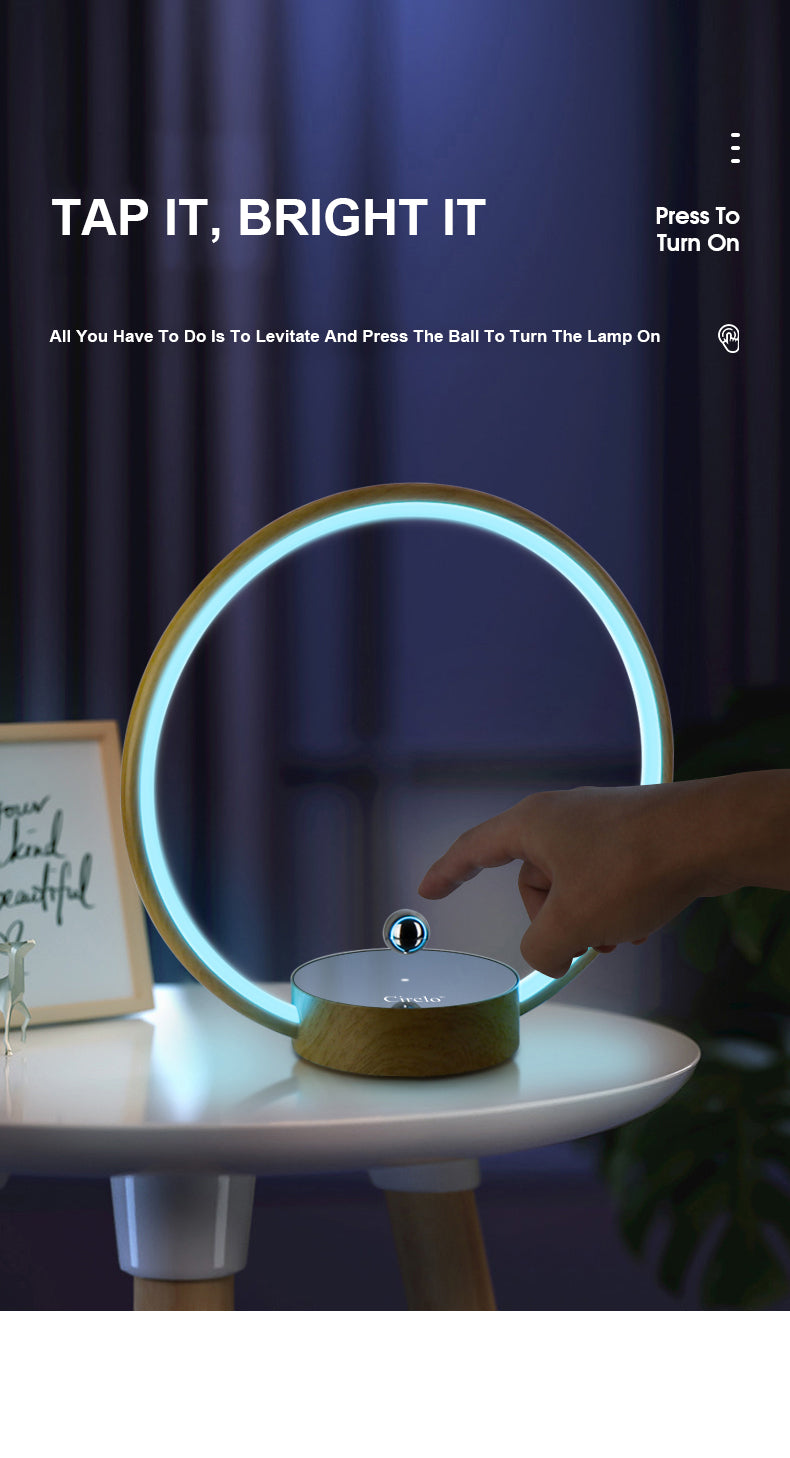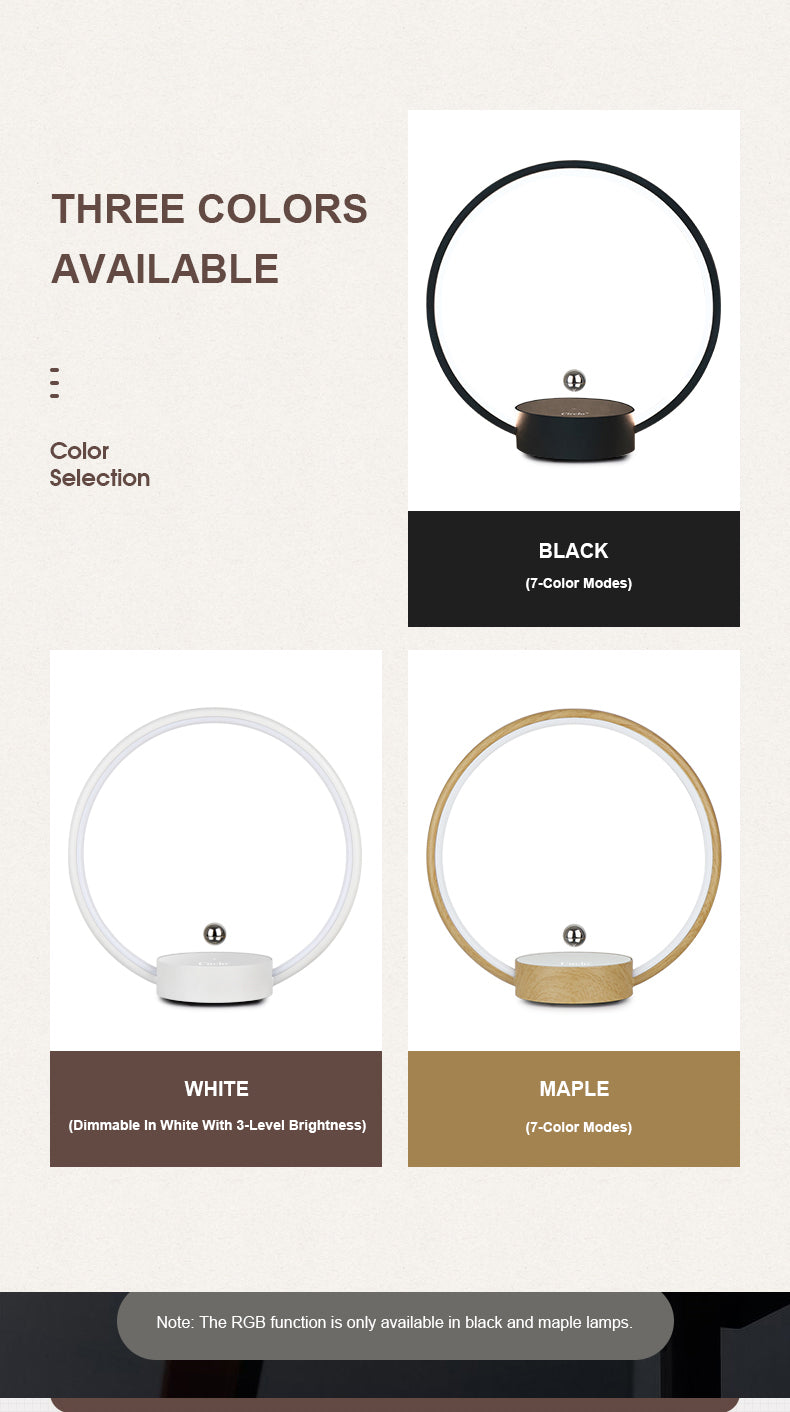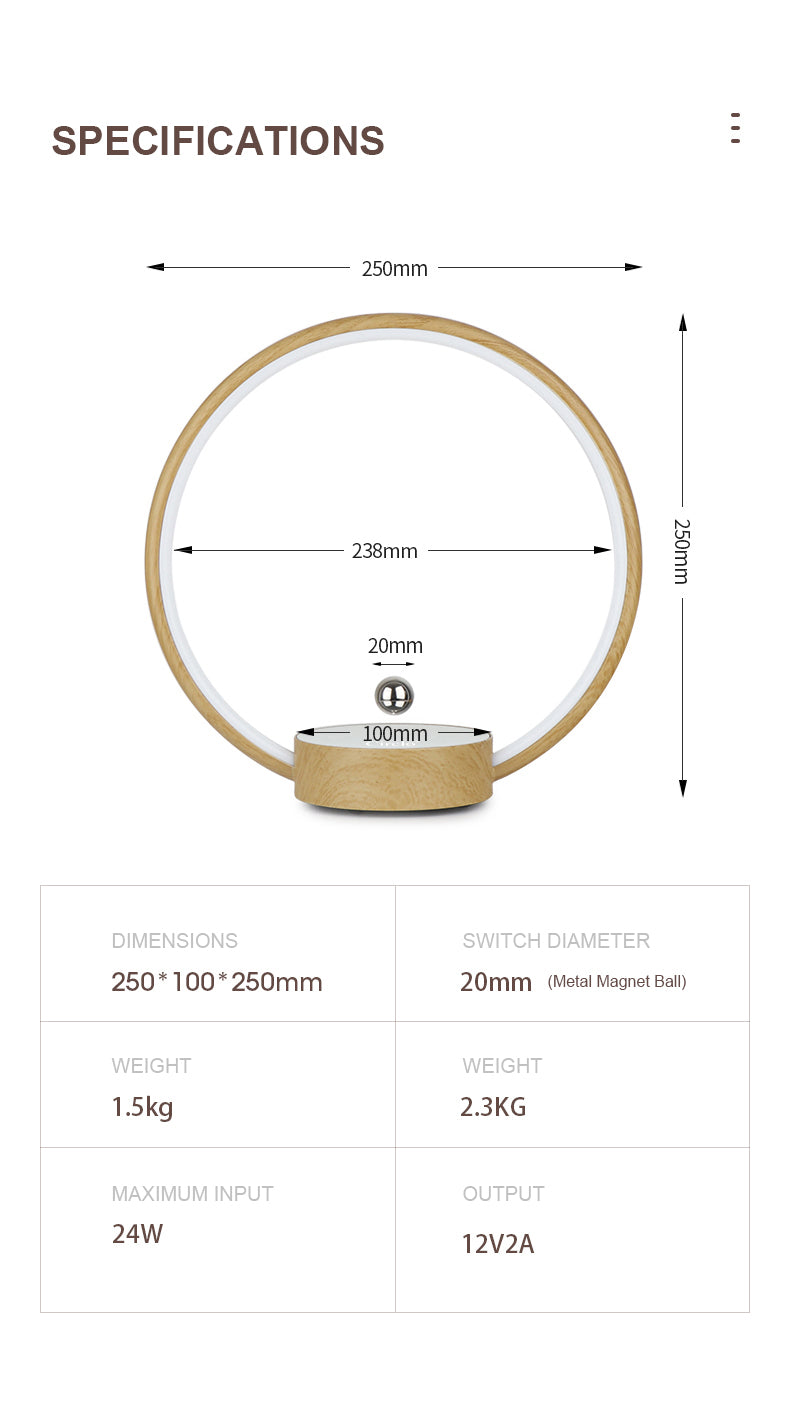 ★==FUTURISTIC CHARACTERISTIC==This lamp uses levitation overflowing imagination, floating freely in the air. Warm design that the balls will automatically affixed to the base after the work process failure. Rotating when running, 0 noise, maximize your comfort and enjoyment.
★== SIMPLE OPERATION==The button is metal ball and moon ball. In the suspended state, press to turn on the white light, then press it will change to different colors (red, green, blue, yellow, cyan, purple, and white in turn), and then press it again to fix the current color, and finally press it again to turn off the light.
★== BEAUTIFUL APPEARANCE==Extra large circle, extraordinary sense of science. The color of your choice illuminates your space and unfolds your imagination. In the dark environment you can also appreciate the beauty of science though the spinning of this gadget.
★== PERFECT GIFT-GIVING OPTION==As a surprising gift for Valentine's Day, Christmas, Thanksgiving, birthday, party, wedding, anniversary and other holidays, this beautiful flying Luna can provide a very chic and unique visual effect for home, office, bedroom, desk, bedside.
★==FUTURISTIC CHARACTERISTIC==If you encounter any problems after receiving the product please contact us in time, we will actively provide you with solutions.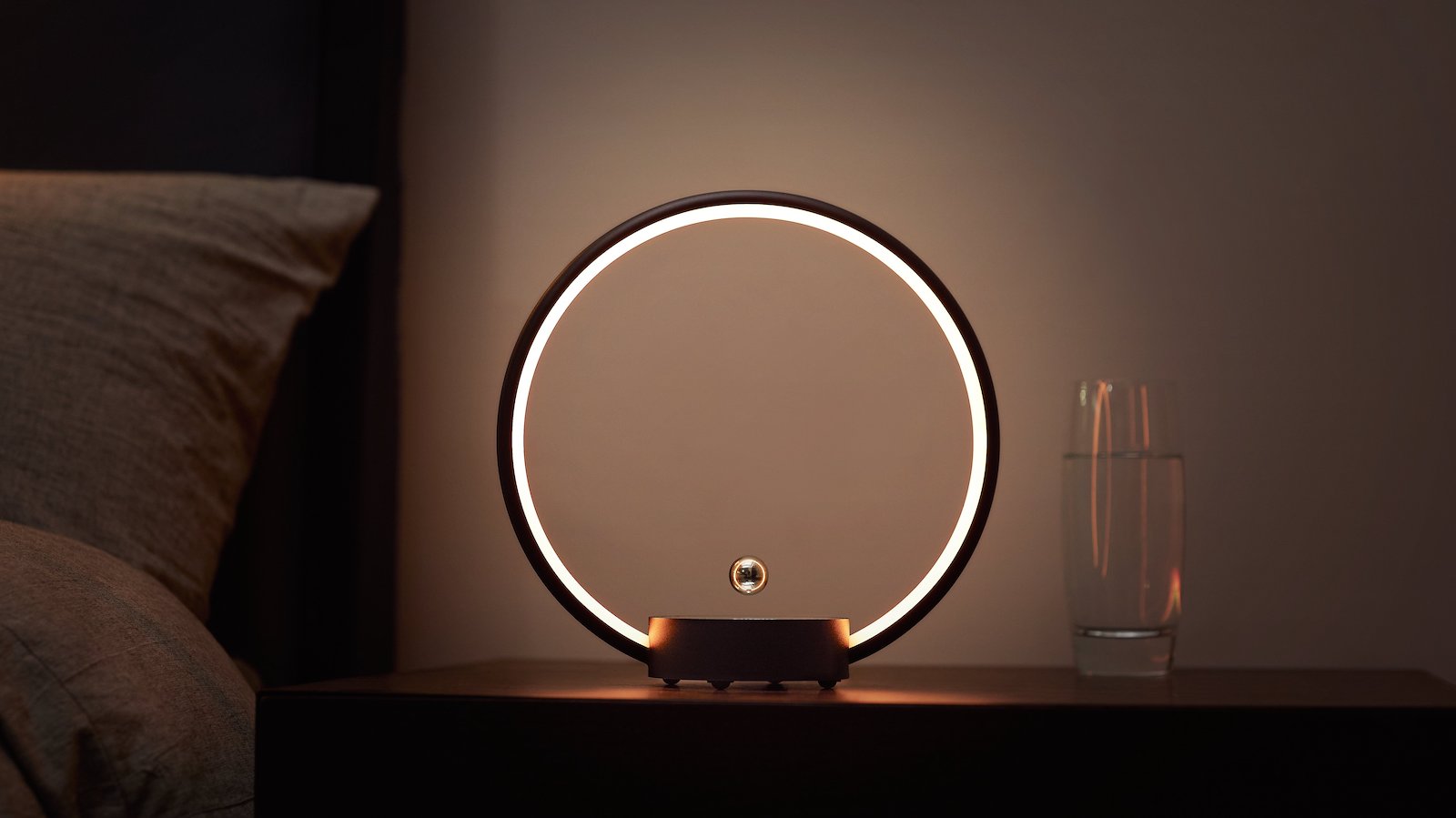 Specifications:
Shape: Cyclic annular
Light Color: red, green, blue, yellow, cyan, purple, and white
Base Color: White
Base Dimensions: 250mm × 100mm × 250mm
Base Weight: 450g
Switch Diameter: 40mm (Moon)
Switch Diameter: 20mm (Metal Magnet Ball)
Power Source: Electric
Input: 100-240v - 50/60Hz
Output: 12V 2A
Brightness of RGB Mood Light Version: 1000 lumens for white LED and 500 lumens for RGB mood light

Package Includes:
- 1 x Circlo light (RGB in wooden maple)
- 1 x metal ball switch
- 1 x moon switch (special gift)
- 1 x levitating setup tool
- 1 x AC adaptor
How To Levitate Your LANGTU Circlo Lamp?
LANGTU Circlo is a table desk lamp with a floating switch. By pressing the floating switch, you can turn the light on /off and trigger different preset mood light modes. There are 3 preset modes:
1. Normal light mode
2. RGB Mood light looping
3. Stay at your favorite color
Shipping Options
The shipping fee varies from country to country (here are the complete list of shipping countries), and there are dozens of countries and regions that are free of domestic shipping fee on orders of $34.98 or more. Depending on the "Ship to" option you choose on the product page, we will ship from your country domestically, or ship from our warehouse in China*. If there's no "Ship to" option in the product page, it means we will ship internationally. We will provide more shipping options in the future.
Options
Apply to
Shipping Time**
Cost
Free Domestic Shipping
US
4-7 Business Days (US)

 

$0 on orders of $34.98 or more

$4.99 on orders below $34.98

Domestic Standard Shipping
US
3-4 Business Days (US)
$9.99
Domestic Express Shipping

US

1-3 Business Days (US)
$19.99

Free International Shipping
US

7-15 Business Days (US)

$0 on orders of $34.98 or more

$4.99 on orders below $34.98

Economy International Shipping
All Shipping Countries & Regions***
4-7 Business Days (Hong Kong, Macau, Taiwan)
7-15 Business Days (Canada, Germany, UK, Australia, France, Spain, Singapore, New Zealand, Russia, South Korea, Japan)
12-20 Business Days (Other EU countries)
15-39 Business Days (Other Countries)

Varies

Standard International Shipping
All Shipping Countries & Regions***
Same as Economy International Shipping
Varies
International Express Shipping
All Shipping Countries & Regions
4-7 Business Days
Varies
* All customized products will be manufactured in our factory in China and shipped from our warehouse in China.
** Shipping time stated is estimation, and is not guaranteed. Due to COVID-19, there might be delay for some orders.
*** Due to COVID-19, we may not be able to ship to some countries.
**** Not available for products that contain batteries (e.g. G1 Series, HV-BT018), except for shipping to the US, UK, Canada, EU and Australia. Due to COVID-19, we may not be able to ship to some countries.
14-day money-back guarantee
Return any undamaged LANGTU product within 14 days of delivery to receive a refund for ANY reason! Please fill in the form at this page. Refund will be made within 7 business days.
You have 14 days to return your product from the date it was received.
The product must be returned in its original condition and packaging.
Tips and delivery fee of this order will not be returned.
Returns that do not meet the eligibility conditions may result in refund delays or the product(s) to be shipped back to you.
For non-quality return issue, a 15% restocking fee may be deducted from the refund amount to make up for the delivery charges.
12-month extended warranty for quality-related issues
With our extended warranty, return any undamaged LANGTU product within 12 months of purchase for a replacement of the product. Please contact us to tell us about the issue.
Free user support
If your LANGTU product isn't working properly, contact our world-class, friendly tech support team for quick and easy solutions.
Limitations and notes on returns
To receive the 14-day money back guarantee, you are responsible for shipping costs for returns unrelated to quality issues. The returned product must be in undamaged, sellable condition. If the product was damaged, we may not be able to provide full refund.
Warranty-related shipping costs are only covered by LANGTU within the country of purchase. For shipping outside the country of purchase, either pay the return shipping cost or receive a 50% refund of the item's purchase price.
When returning an item, please ship it back within 14 days of receiving approval. Further delays may void or cause problems with your return
If you paid with Bitcoin, and want to return the product, we will provide refund with PayPal in the sum listed in your order record in one of our supported currencies.
If orders are undeliverable because of buyers' own reasons, for example, provide a wrong address, refuse to accept package, fail to get the package from carrier etc., the buyers will pay for the original and return shipping fee and other fee that may occur.
Return Cost
Buyers who are returning product with no quality-related issues are responsible for the return fee that may occur. For returning products with quality-related issues, we will cover the standard shipping cost and the original shipping fee.
Quality-Related Issues
If a product does not work as the product description, we consider it quality-related issues. For specifications that comes with specific numbers, please allow for up to 30% of tolerance caused by measurement or depreciation.
Tax and Tariffs
Buyers are responsible for the tax and tariffs that may occur, and should cooperate when customs clearance is needed.
Friendly reminder
When contacting us for help, be sure to have your LANGTU product handy for troubleshooting!
Contact us
Online Chat: Click on the bubble on your left
Email: sales@langtustore.com
Online Form: Click here
International: +86-755-23283305, +86-731-82509900
---
For purchases made from other retailers
Please contact the retailer you purchased from.
Our returns and exchange service only covers purchases made directly from LANGTU Store. If you purchased through a different merchant, please contact them. Note: Unauthorized reselling of LANGTU merchandise is prohibited. If our returns policies change, this page will be updated immediately.
Here's a secret that computer hardware retailers don't want you to know: the price a retailer sells a piece of computer hardware for is often up to 10 times (!!) the cost of making the computer hardware. Great deal of them, not a great deal for you.
At LANGTU Store, we sell directly to our customers, cutting out the unnecessary costs and crazy markups that make typical fine computer hardware extremely expensive. We pass the savings on to you, so you can get reliable products with the highest performance standards at a fraction of the normal price.