LANGTU magnetic levitation immortal flower floating rotating crystal ball
Regular price
$179.98
Sale price
$89.99
Save

$89.99
/
10% OFF
Black Friday Limited Offer
In stock, ready to ship

Inventory on the way
LANGTU Magnetic Levitating Immortal Flower Floating

360

° Rotating 

Eternal Preserved Everlasting Flower 

Crystal Ball ft. Decorative Lights, Touch Switch, PET Crystal Case, Overload Protection for Home, Office & Desk Decor and 

Mother's Day, Valentine's Day & Birthday Gifts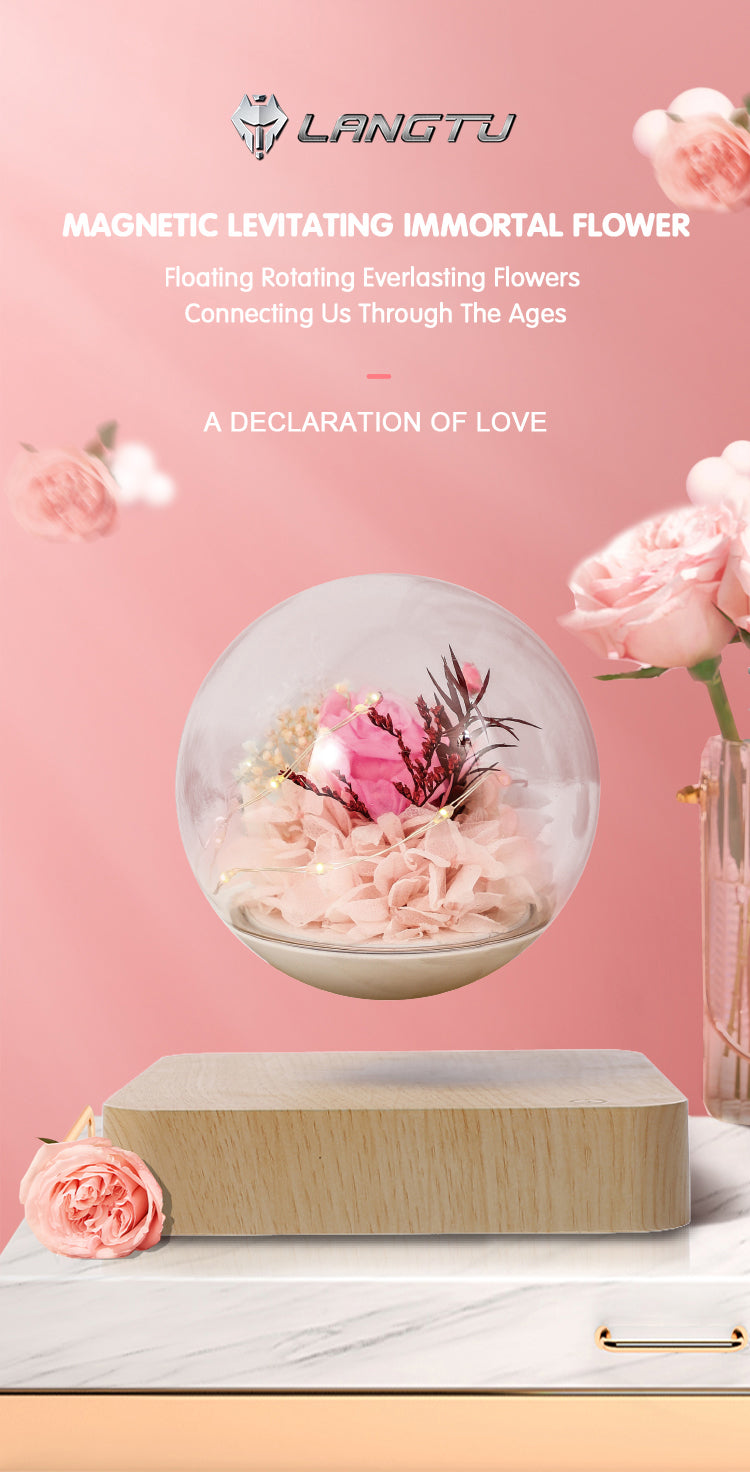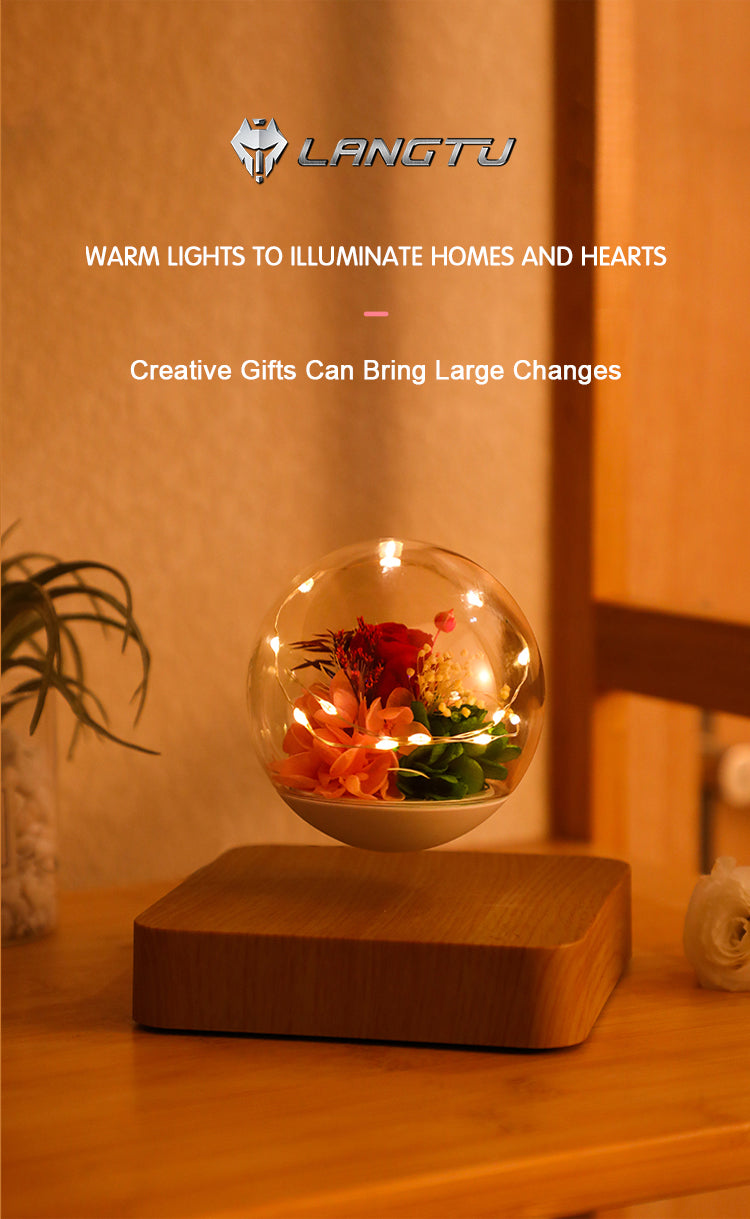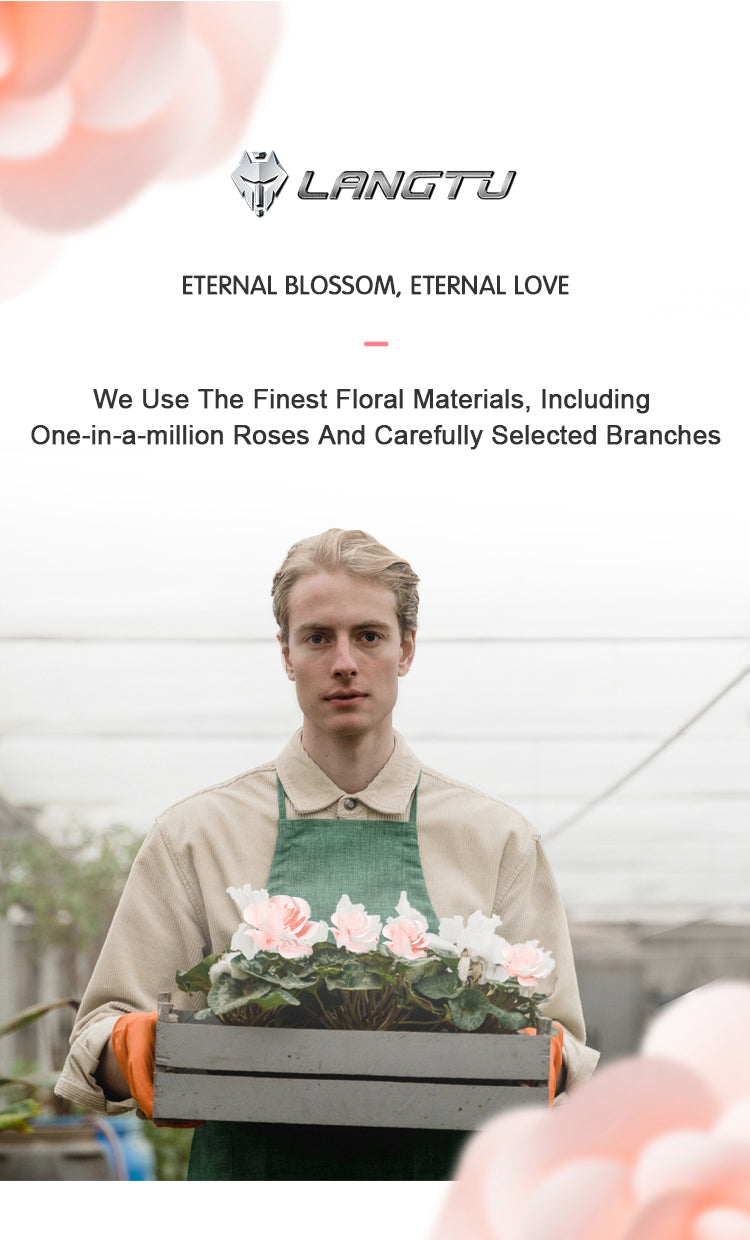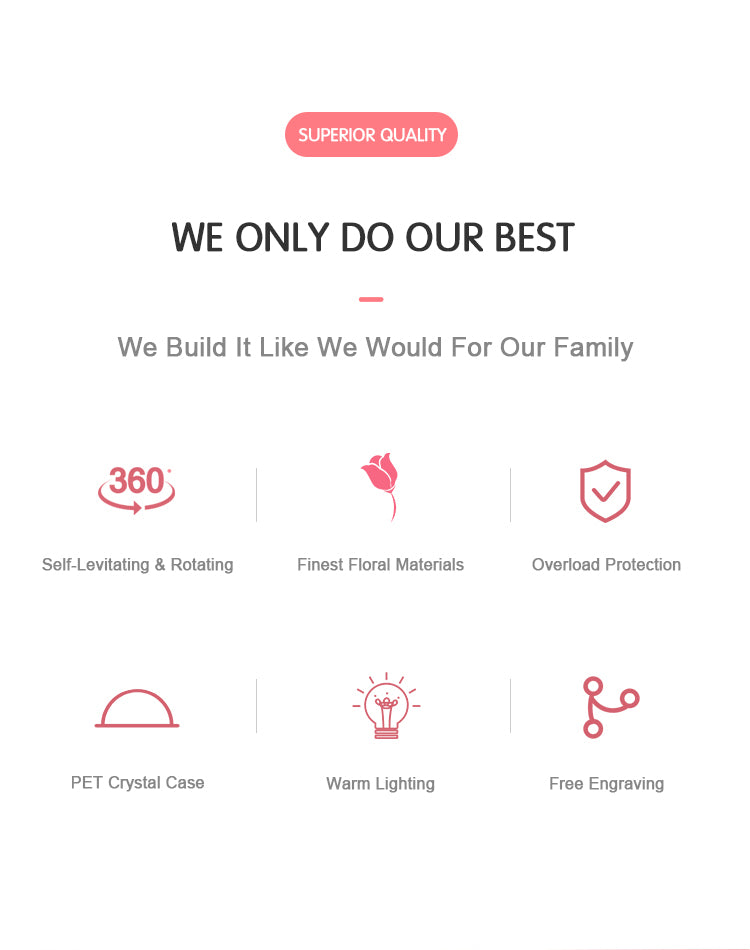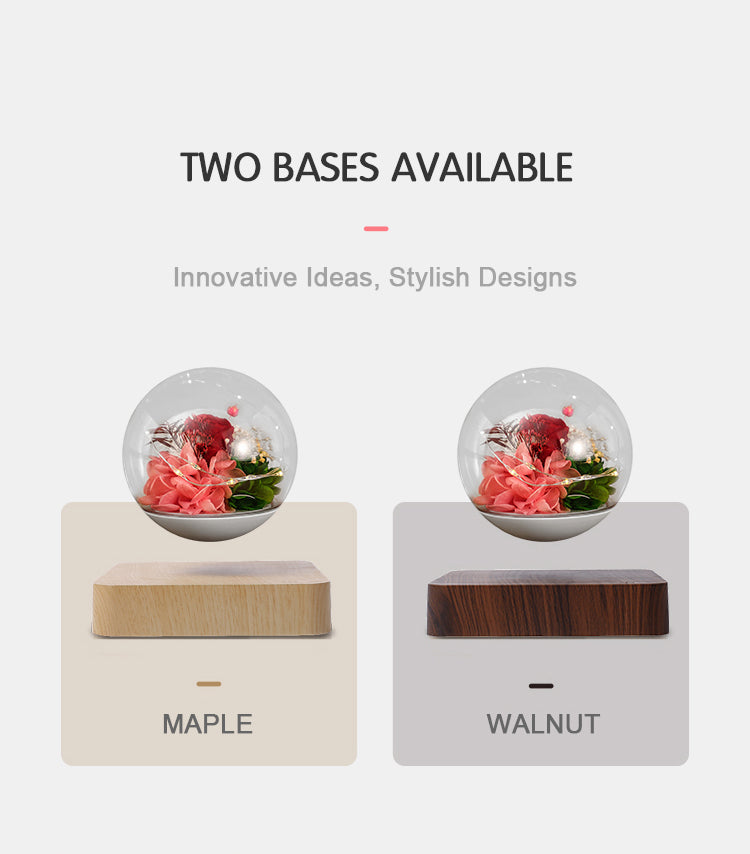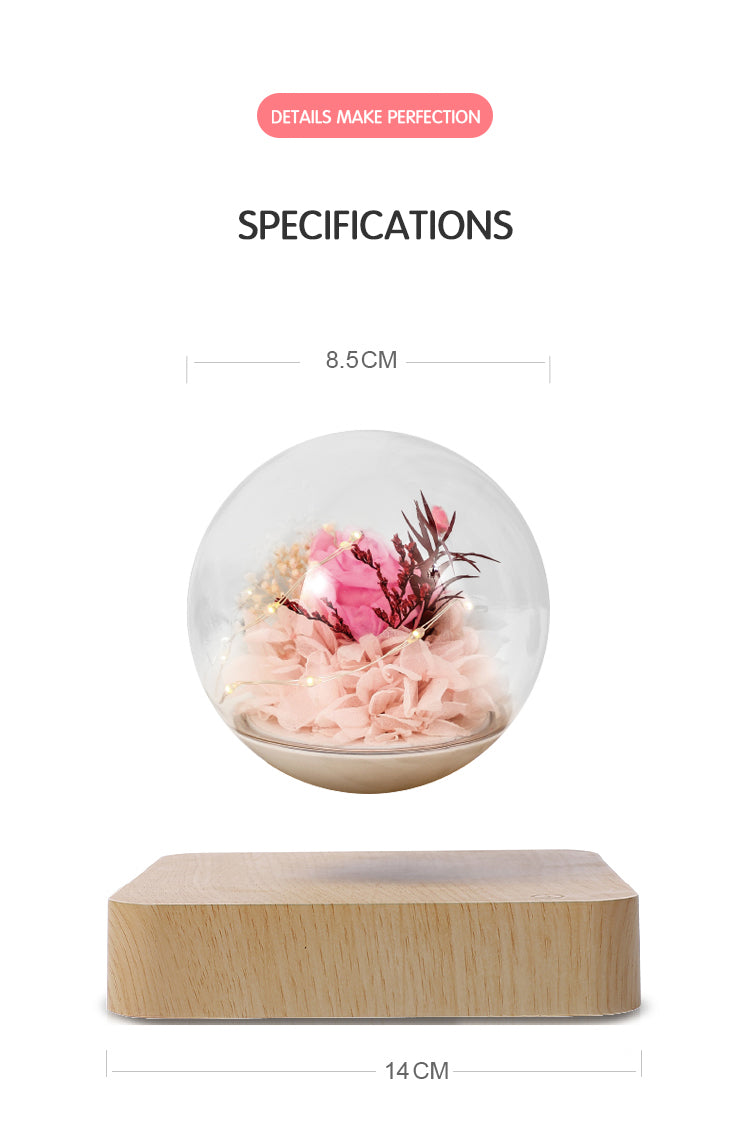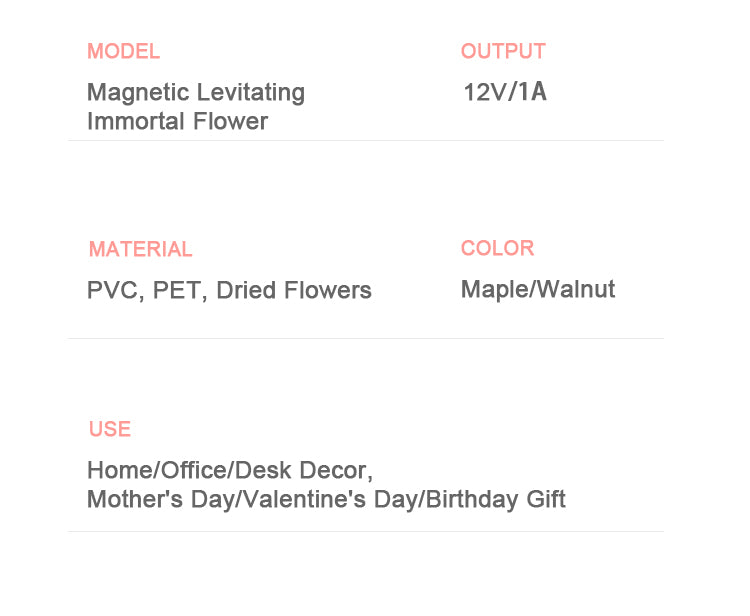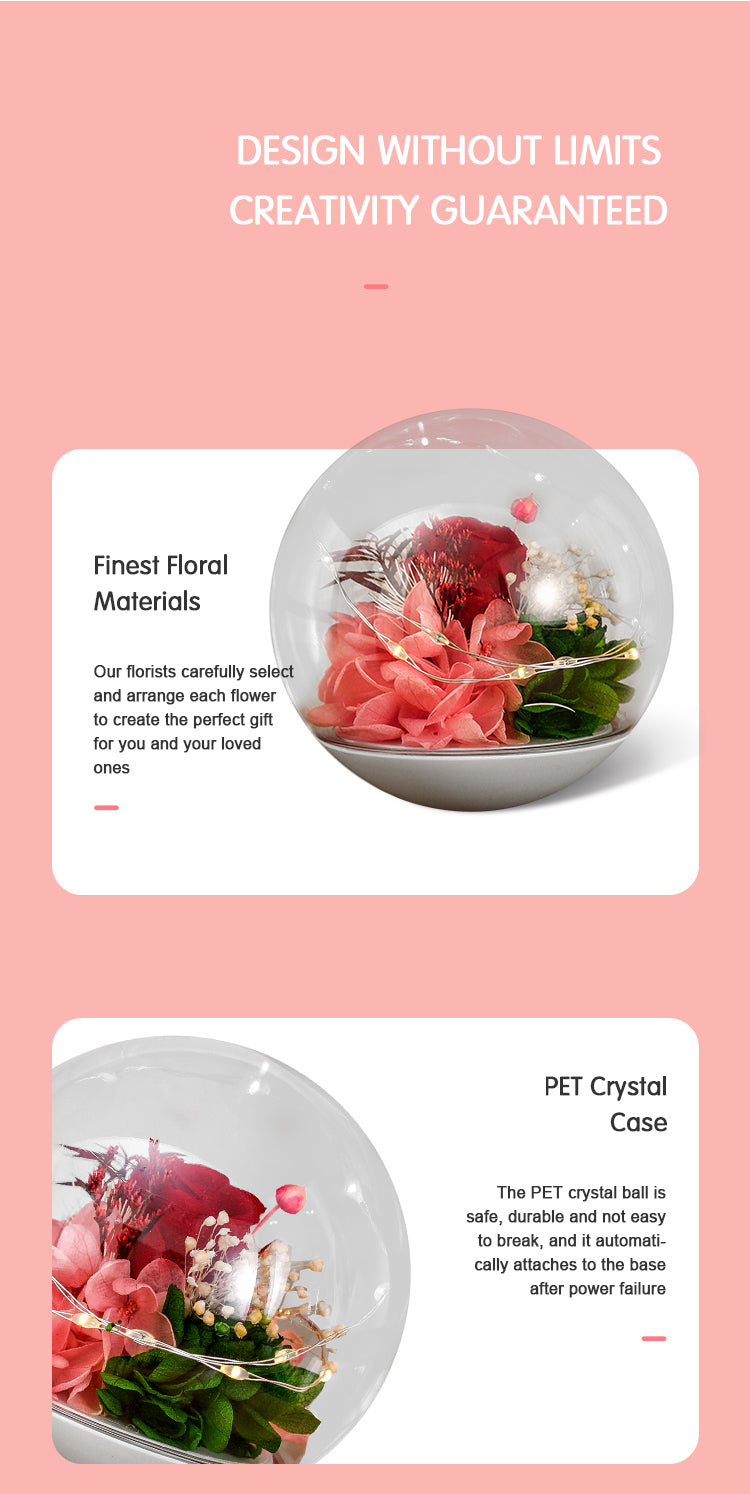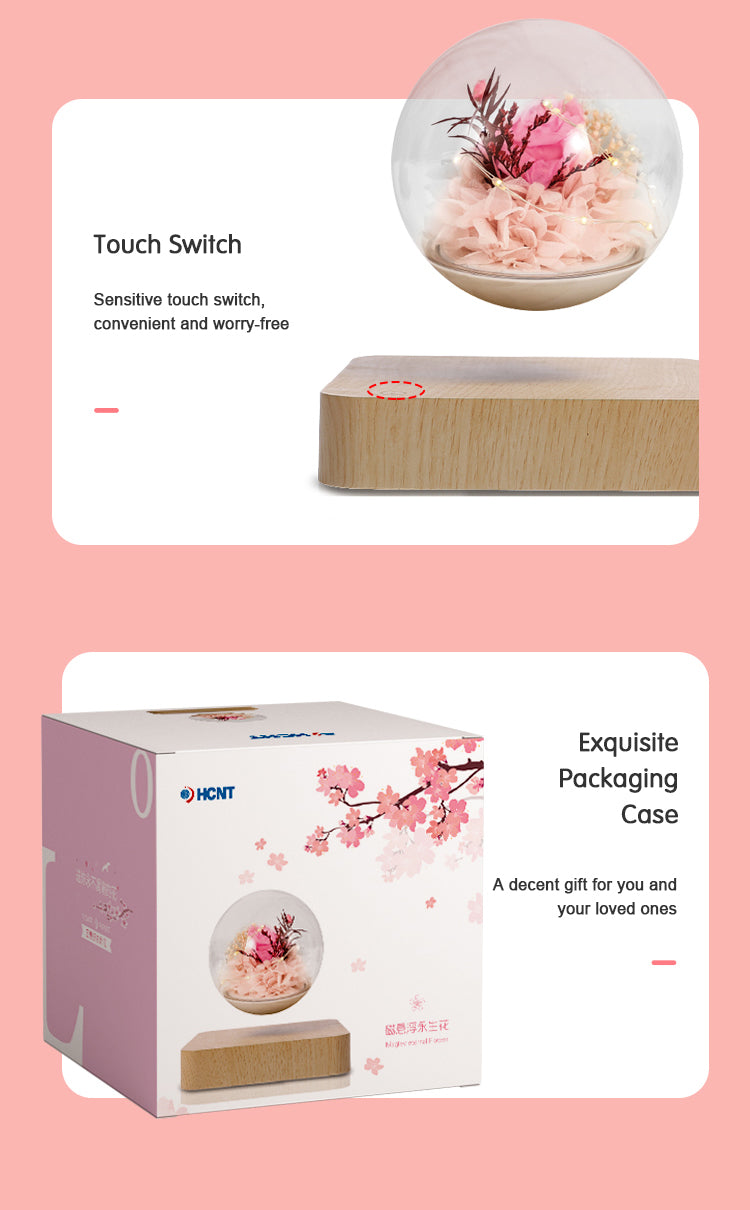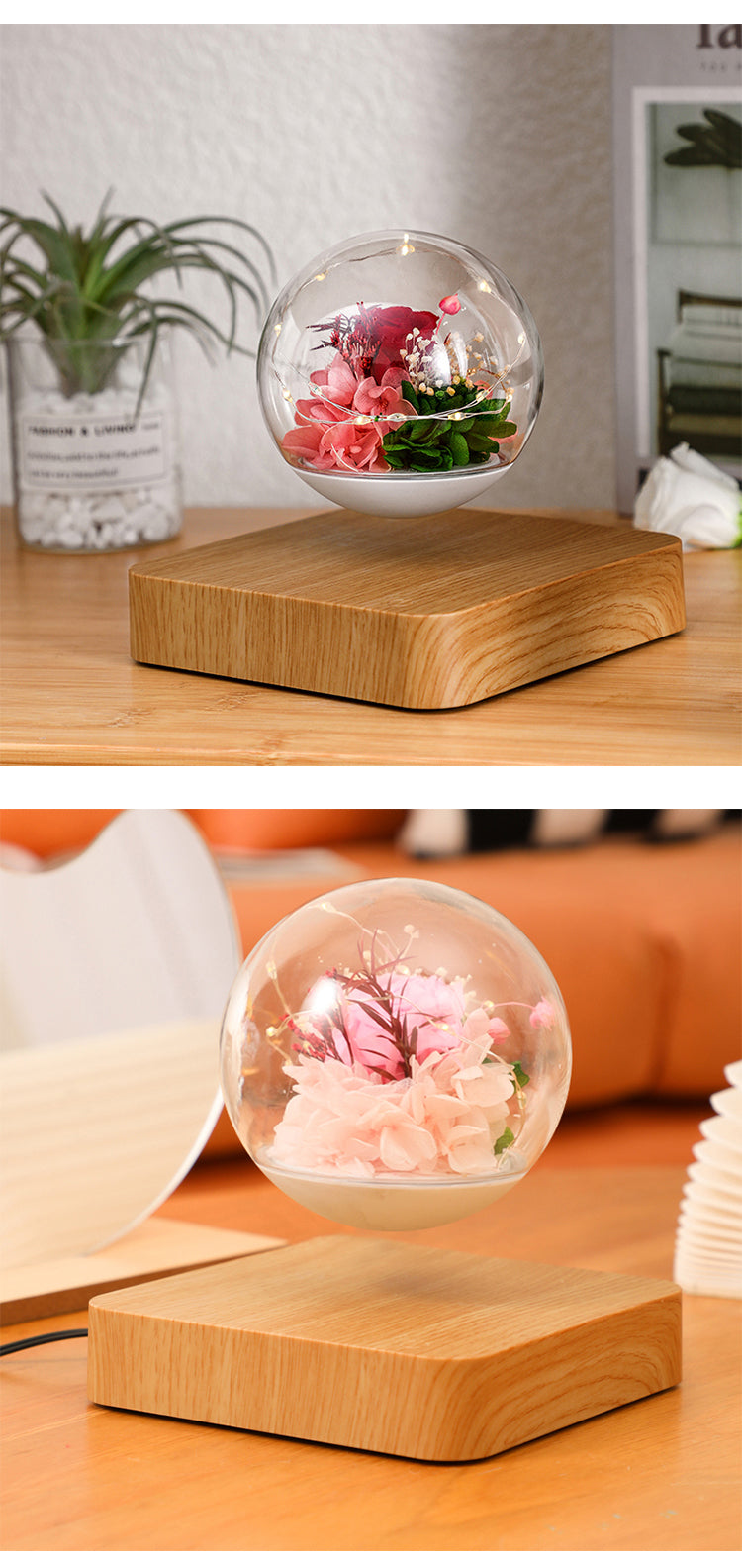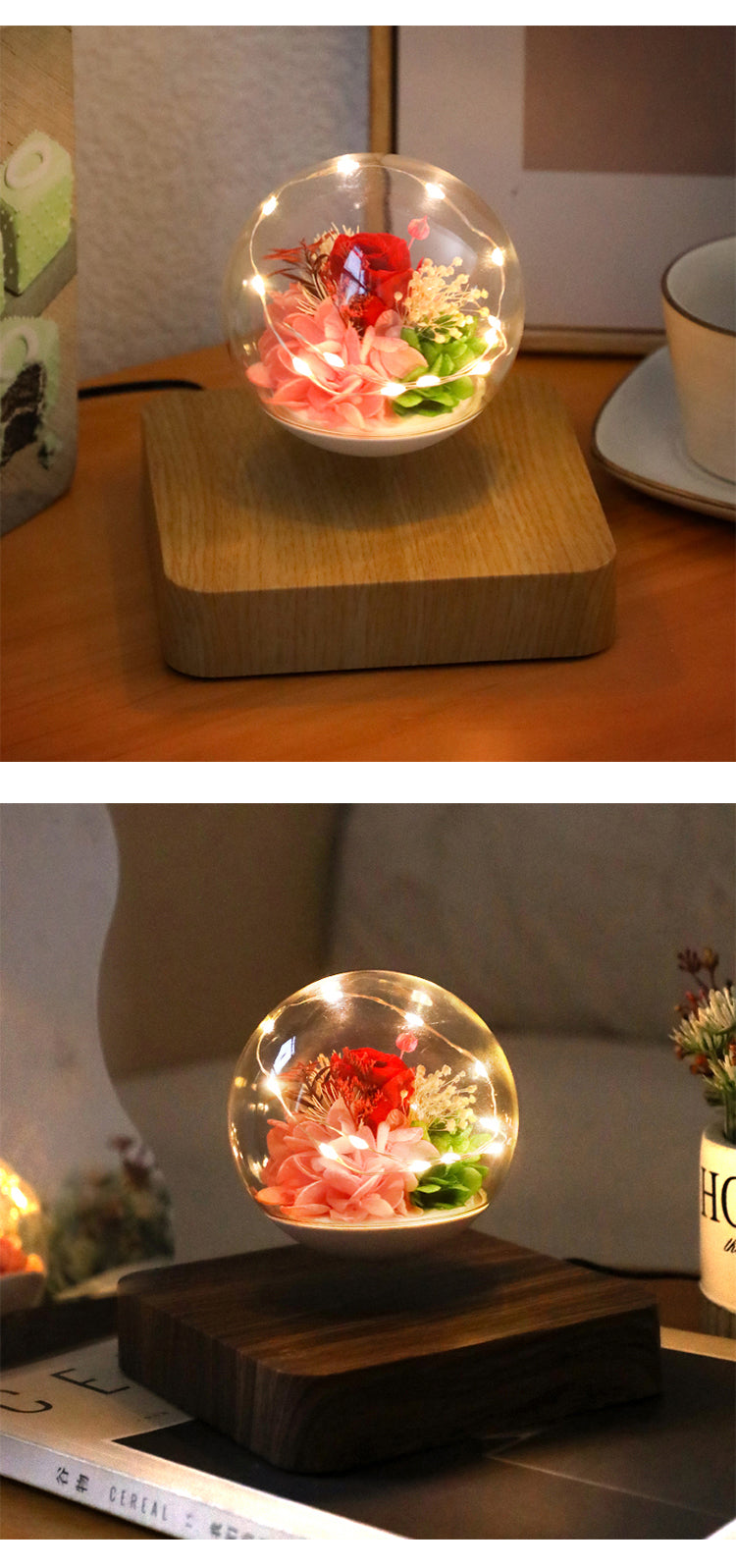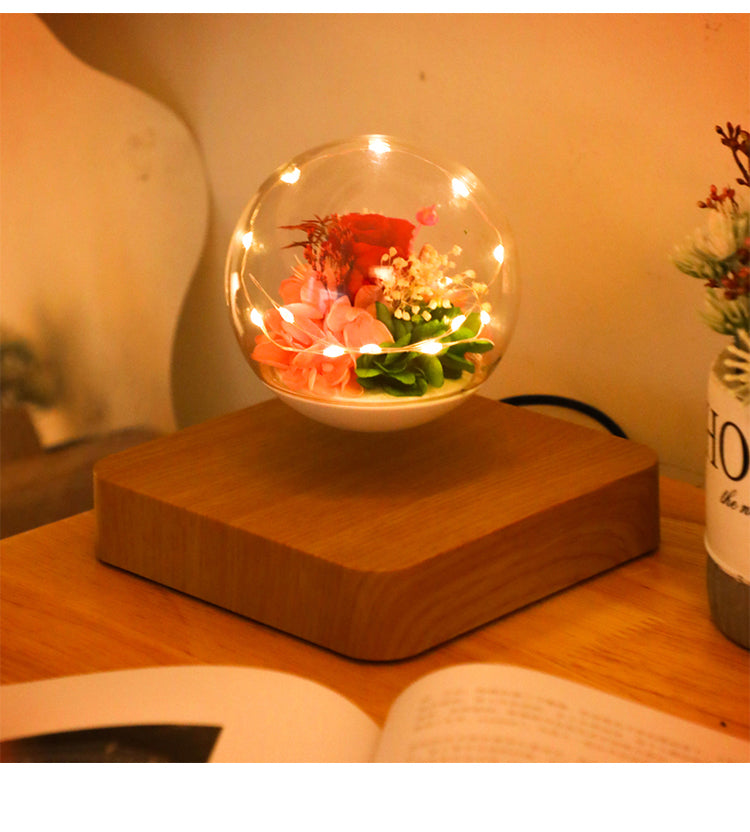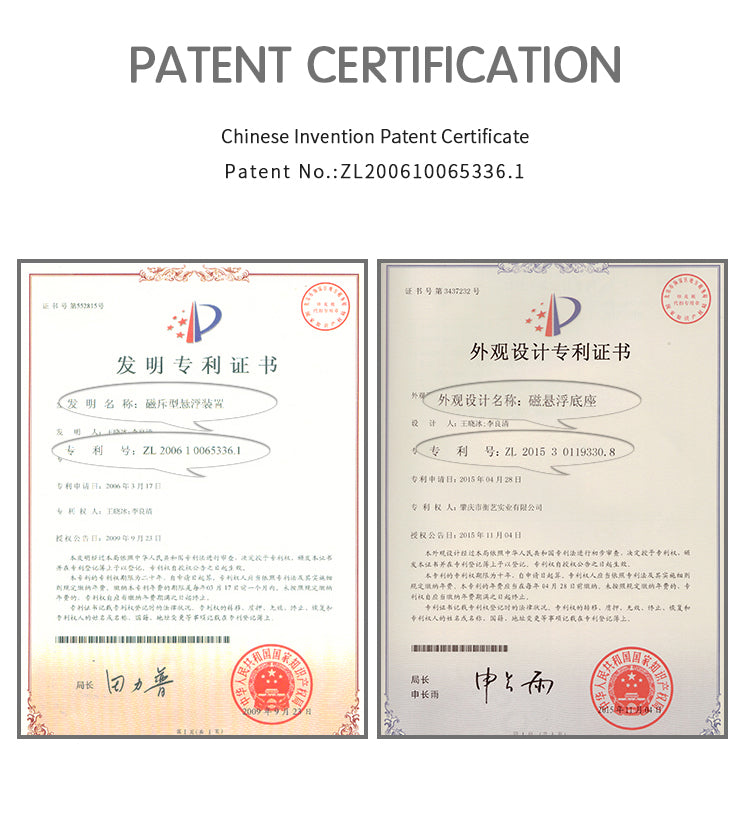 ★==DESIGN CONCEPT==Let love revolve and never stop. For the magnetic levitation series, I want to go to the moon with you and approach you without gravity. Creative gifts and accessories. According to people's personalities like new products, creative flower shops will continue to pursue new design techniques to promote new fashion trends. Eternal flowers, spokesperson of love, you deserve it!
★==MAGNETIC LEVITATION TECHNOLOGY==360° levitation rotation, free rotation, intelligent adsorption, magnetic levitation technology combined with romantic immortal flowers, full of creativity. Levitation requires practice and patience. When operating the magnetic levitation immortal flower for the first time, you need to read the operating instructions carefully. Hold the bottom of the flower with both hands, fix the sphere with your thumb and middle finger, and then place the flower vertically from the top.
★==CREATIVE DESIGN==①The perfect combination of technology and tradition will bring you a novel feeling. Magnetic levitation will not stop spinning. ②Use high-quality materials, choose roses and carefully choose flowers. Maybe there are 1,500 flowers in the world that look exactly like yours, but you are my unique rose. ③Convenient touch button. The sensitive touch switch is thoughtful and worry-free.
★==ETERNAL FLOWERS==Selected high-quality flowers carefully selected by the florist. Each flower has a gift specially prepared for you. The designer carefully selected. Each petal is carefully selected and made by the designer. Pieces are your idea.
★==BEST GIFT==Gift box packaging. Are you still looking for the best way to express eternal love, respect and appreciation? Whether you are looking for a gift from a mother, wife, girlfriend or grandmother, this eternal flower rose gift box will bring you unforgettable memories!
★==LIFETIME GUARANTEE==If this product does not meet your need for any reason, we will replace it or refund your money.
Specifications:
Materials: PVC base, PET crystal case, dried flowers
Suspension Distance: 0.8 inches
Power Supply: 12V/1A
Plug Type: US Plug
Crystal Ball Size: 5.3 inches (diameter)
Base Size: 5.28*5.28*1.14 inches
Base Shape : Square
Base Color: Maple, walnut
Product Weight:  1.87 lb
Package Weight: 2.56 lb
Package Includes:
1 x Immortal Flower Crystal Ball
1 x Base
1 x Power Adapter
1 x User Manual
How to Levitate?
Levitating your immortal flower will require some patience and practice at first. If this is your first time using magnetic levitation products, you may need to attempt a few times first before succeeding. However, once you succeed, it only gets easier!
STEP 1:
Place the base on a flat, nonmetallic surface. Connect the AC adapter to the power, and the other DC plug to the base.
STEP 2:
With two hands, hold the planter above the center of the base and slowly put the immortal flower down towards the base. When you feel resistance, adjust the immortal flower until you feel a gentle release. Keep the planter stable for a few seconds.
STEP 3:
Once you feel that the planter is almost balanced in mid-air (not falling down or being pushed up), slowly let go until the planter begins to rotate by itself.
If you don't succeed, try again. It may take a few tries at first! If still unsuccessful, turn off the base and let it cool before trying again.
Shipping Options
The shipping fee varies from country to country (here are the complete list of shipping countries), and there are dozens of countries and regions that are free of domestic shipping fee on orders of $34.98 or more. Depending on the "Ship to" option you choose on the product page, we will ship from your country domestically, or ship from our warehouse in China*. If there's no "Ship to" option in the product page, it means we will ship internationally. We will provide more shipping options in the future.
Options
Apply to
Shipping Time**
Cost
Free Domestic Shipping
US
4-7 Business Days (US)

 

$0 on orders of $34.98 or more

$4.99 on orders below $34.98

Domestic Standard Shipping
US
3-4 Business Days (US)
$9.99
Domestic Express Shipping

US

1-3 Business Days (US)
$19.99

Free International Shipping
US

7-15 Business Days (US)

$0 on orders of $34.98 or more

$4.99 on orders below $34.98

Economy International Shipping
All Shipping Countries & Regions***
4-7 Business Days (Hong Kong, Macau, Taiwan)
7-15 Business Days (Canada, Germany, UK, Australia, France, Spain, Singapore, New Zealand, Russia, South Korea, Japan)
12-20 Business Days (Other EU countries)
15-39 Business Days (Other Countries)

Varies

Standard International Shipping
All Shipping Countries & Regions***
Same as Economy International Shipping
Varies
International Express Shipping
All Shipping Countries & Regions
4-7 Business Days
Varies
* All customized products will be manufactured in our factory in China and shipped from our warehouse in China.
** Shipping time stated is estimation, and is not guaranteed. Due to COVID-19, there might be delay for some orders.
*** Due to COVID-19, we may not be able to ship to some countries.
**** Not available for products that contain batteries (e.g. G1 Series, HV-BT018), except for shipping to the US, UK, Canada, EU and Australia. Due to COVID-19, we may not be able to ship to some countries.
14-day money-back guarantee
Return any undamaged LANGTU product within 14 days of delivery to receive a refund for ANY reason! Please fill in the form at this page. Refund will be made within 7 business days.
You have 14 days to return your product from the date it was received.
The product must be returned in its original condition and packaging.
Tips and delivery fee of this order will not be returned.
Returns that do not meet the eligibility conditions may result in refund delays or the product(s) to be shipped back to you.
For non-quality return issue, a 15% restocking fee may be deducted from the refund amount to make up for the delivery charges.
12-month extended warranty for quality-related issues
With our extended warranty, return any undamaged LANGTU product within 12 months of purchase for a replacement of the product. Please contact us to tell us about the issue.
Free user support
If your LANGTU product isn't working properly, contact our world-class, friendly tech support team for quick and easy solutions.
Limitations and notes on returns
To receive the 14-day money back guarantee, you are responsible for shipping costs for returns unrelated to quality issues. The returned product must be in undamaged, sellable condition. If the product was damaged, we may not be able to provide full refund.
Warranty-related shipping costs are only covered by LANGTU within the country of purchase. For shipping outside the country of purchase, either pay the return shipping cost or receive a 50% refund of the item's purchase price.
When returning an item, please ship it back within 14 days of receiving approval. Further delays may void or cause problems with your return
If you paid with Bitcoin, and want to return the product, we will provide refund with PayPal in the sum listed in your order record in one of our supported currencies.
If orders are undeliverable because of buyers' own reasons, for example, provide a wrong address, refuse to accept package, fail to get the package from carrier etc., the buyers will pay for the original and return shipping fee and other fee that may occur.
Return Cost
Buyers who are returning product with no quality-related issues are responsible for the return fee that may occur. For returning products with quality-related issues, we will cover the standard shipping cost and the original shipping fee.
Quality-Related Issues
If a product does not work as the product description, we consider it quality-related issues. For specifications that comes with specific numbers, please allow for up to 30% of tolerance caused by measurement or depreciation.
Tax and Tariffs
Buyers are responsible for the tax and tariffs that may occur, and should cooperate when customs clearance is needed.
Friendly reminder
When contacting us for help, be sure to have your LANGTU product handy for troubleshooting!
Contact us
Online Chat: Click on the bubble on your left
Email: sales@langtustore.com
Online Form: Click here
International: +86-755-23283305, +86-731-82509900
---
For purchases made from other retailers
Please contact the retailer you purchased from.
Our returns and exchange service only covers purchases made directly from LANGTU Store. If you purchased through a different merchant, please contact them. Note: Unauthorized reselling of LANGTU merchandise is prohibited. If our returns policies change, this page will be updated immediately.
Here's a secret that computer hardware retailers don't want you to know: the price a retailer sells a piece of computer hardware for is often up to 10 times (!!) the cost of making the computer hardware. Great deal of them, not a great deal for you.
At LANGTU Store, we sell directly to our customers, cutting out the unnecessary costs and crazy markups that make typical fine computer hardware extremely expensive. We pass the savings on to you, so you can get reliable products with the highest performance standards at a fraction of the normal price.